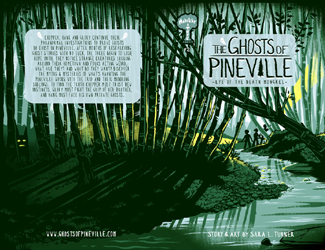 The Ghosts of Pineville - Book 2 - Eye of the Death Mongrel
Chopper, Hank and Glory continue their paranormal investigations to prove ghosts do exist in Pineville. After months of researching ghost stories with no luck, the three begin to lose hope until they notice strange creatures lurking around their hometown and folks acting weird. What are they? And what do they want? Discover the myths & mysteries of what's haunting the Pineville woods with the trio and their meddling siblings. To find the truth Chopper must trust new instincts, Glory must fight the grip of her brother, and Hank must face his own private ghosts.
Details: 6" x 9", 86 pages, Black & White
Art & Story by Sara Turner, 2011, Tiny Ghost Stories
Click on the thumbnails below to read the comic online!